On-the-Road Fossil Diversions
in Southern Indiana and North Central Kentucky
In October of 2007, Cindy and I spent a week in Bloomington, Indiana, and
had a couple of days after to fossil collect in southern Indiana and northern
Kentucky. About a month before our trip I solicited the Paleolist members for
collecting sites and was rewarded with several suggestions. There was also
similar interest expressed by others that would be traveling through this area.
The photos I am presenting, although moderate in quality, give an idea of what
can be found at a few easily accessible sites. We visited suggested sites and
some of those listed at the Falls Of The Ohio website.

Our route took us to to the following localities

Click on fossil pictures to Magnify
(maps do not have larger images)

Near Harrodsburg, Indiana. This site had more potential than we had time for.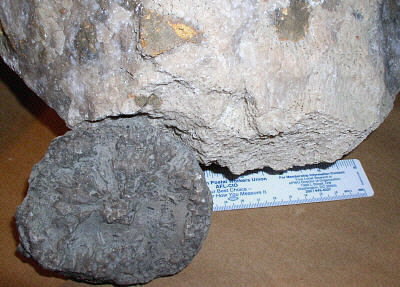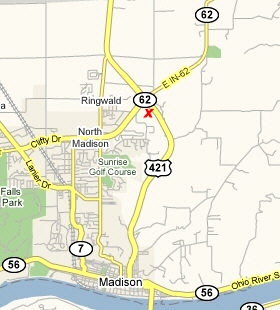 2
Near Madison, Indiana. A huge site, did not know where to begin. State
trooper checked on us for car trouble and then wished us good luck on collecting.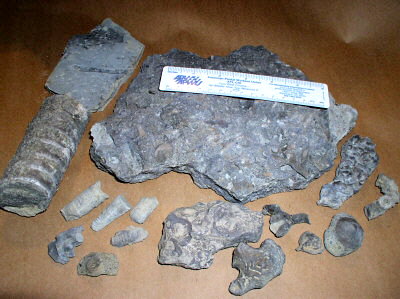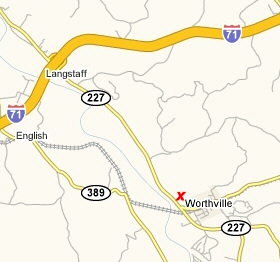 3
Near Worthville, Kentucky. It was raining and getting dark but we collected
until we could not see. Definitely worth revisiting.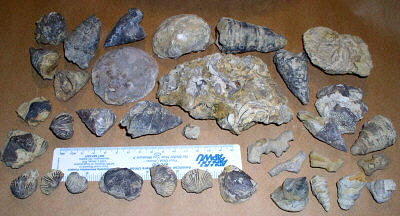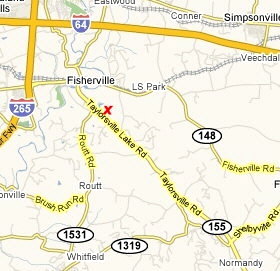 4
Near Fisherville, Kentucky. It was a beautiful sunny morning and we spent
several hours just picking up fossils exposed by recent rains.
Another site that is worth revisiting.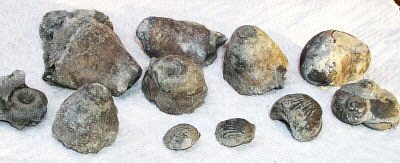 5
Falls of the Ohio, pile of Waldron shale.
Falls of the Ohio. The only collecting allowed was in the remnants of a
pile of Waldron shale that had been dumped for the previous September's Falls
festival. We spent a little time there but mostly enjoyed touring the visitor's
center. Although the Ohio River was up there were still much Devonian material
visible down on the flats.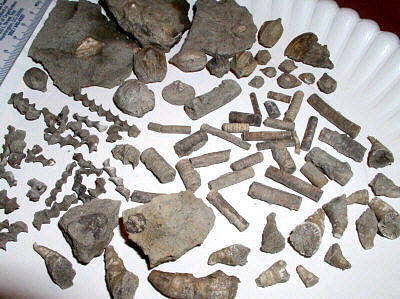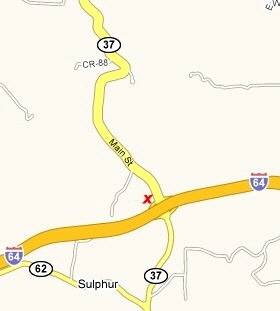 6
NW corner of I-64 and Hwy 37, Indiana. This is a heavily collected site and
serious collecting would take more time than we had. Spent an hour or two
climbing around just enjoying being out.
I would like to thank those that have gone before me. Specifically, for the
wood handled brick hammer I found near Fisherville and the Estwing framing
hammer I found at I-64 and Hwy 37.
Dave Lochhaas
Columbia, Missouri


Go-Back Text Menu or Thumb Menu
Home Page

Photo Album search engine
search the Photo Album or the Web